Work Hard. Stand firm. Grow well.
Alex Vann
Redwall Leadersip
ABOUT ALEX VANN
Alex serves on the Executive Board of Directors with GIOA. With nearly three decades of leading teams, developing others, and creating intentional growth in the lives of others, Alex shares his insights on principled leadership with candor and challenge. Alex has been married for over 20 years and has four children. Working his way from his first job in the dish room to leading an organization of nearly 200 employees, Alex has countless stories, anecdotes, and experiences narrowed down into leadership lessons that are born of reality and are effective in practice. Growing up under the feet of Chick-fil-A founder, Truett Cathy, Alex is a lifelong student of leadership, service, entrepreneurship, discipleship, and hospitality. He is passionate about seeing those he influences do one thing: grow.
28 years at Chick-fil-A
20 years as Owner/Operator
B.S in Communications/Marketing Mercer University
M.A.M.L. (Masters in Management and Leadership) Liberty University
*D.S.L. (Doctorate of Strategic Leadership) Regent University* [Starts in the fall of 2022]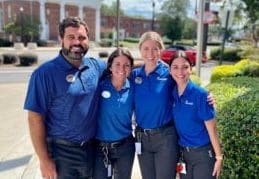 Ted Engstrom says, "The successful organization has one major attribute that sets it apart from unsuccessful organizations: dynamic and effective leadership." Work requires energy. Leadership requires that energy be directed, leveraged and appropriated in a way that...